There is many a different alkaline food list floating around on the internet on various different sites, most of which are erroneous and not easy to read or easily see what are alkaline forming foods and acidic foods.
After years of research, working in the health service and reading all of the leading books in the alkaline diet field – including Dr Robert Young's 'The pH Miracle' and Christopher Vasey's 'The Acid Alkaline Diet for Optimum Health' – I have come up with a comprehensive alkaline food list, that you can download and print for your reference.
Easily Follow the Alkaline Diet With Our Alkaline Food List
Here is the alkaline foods list, with neutral and acidic foods listed too. You can also download the PDF version below and save on your computer for printing. Put this list on your fridge door and take shopping, for easy reference.
For optimum health, it is recommended that your diet consists of the following proportions, although any shifts in diet towards more alkaline foods are good, no matter how small:
70% Alkaline Foods
20% Neutral/Moderately Acidic Foods
10% Acidic Foods (naughty indulgences!)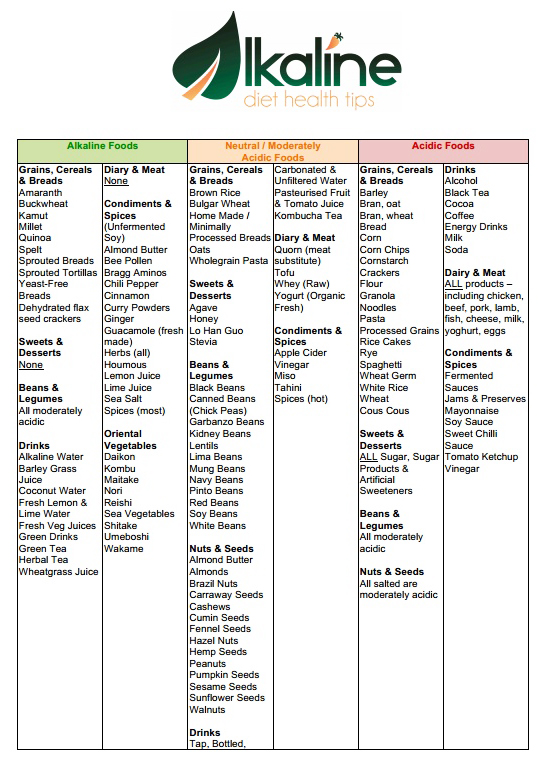 Downloading the Alkaline Food List PDF
To download the foods list, right click this link next to the PDF image and choose 'save as' or 'save link as' to save the PDF file to your computer's hard drive:
You can get the latest version of Adobe Reader for reading the PDF file here.
N.B. Please do not send us support queries about downloading this file – it works, we check it periodically. If you have the latest version of the PDF reader and right click and save, you will be able to save it. Be sure to choose a memorable location on your hard drive so you can find it easily 🙂
For some delicious and easy recipes that use alkaline foods, download our FREE 38-page Alkaline Recipes eBook.
The recipes are good for transitioning into a fully alkaline diet and all are fully endorsed by the National Cancer Institute and Centers For Disease Control & Prevention. Full nutritional information and diabetic exchange values have been calculated for all 30 of the recipes.
Back to: Alkaline Foods Can Make You Feel Amazing in Less Than A Week
Alkaline Diet Health Tips Home
Leave a comment below to let us know if you've found the alkaline food list useful